Here is a Set of Fire Skulls i just made quickly
Top Left=Charred Skull with the transparent overlay
Top Mid=Charred Skull
Top Right=Skull with Flames (organic lines for flames)
Bottom Left= Red Skull with Transparent Overlay
Bottom Mid= Red skull (dark red set to multiply)
Bottom Right= Skull with flames(Dynamic Lines for flames)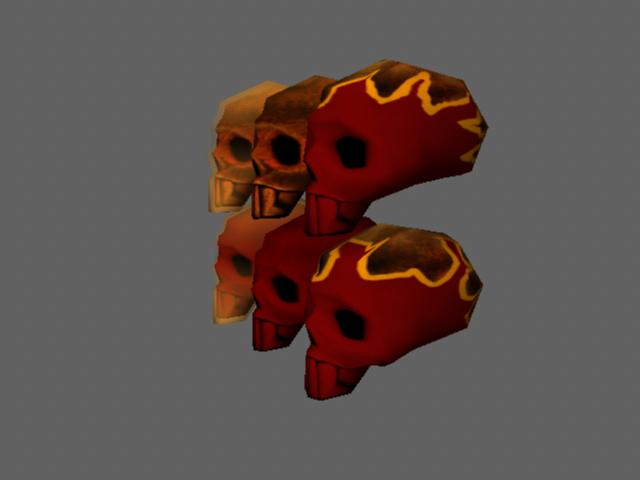 I quite enjoy the charred skull, it looks quite...burnt.



Posts

: 45


Join date

: 2008-01-11


Age

: 30


Location

: Hongcouver



your tome of explosion or fire or.. insert word to do with exploding here.
Here's the tome with a 128x128 texture, I tried 64x64 but no it looks like a smudge of blur. Here it is up close
Here it is at a supposed game view that I think we're aiming for
Here's the tome with a 512x512 texture, up close the lines look much clean and more crisp.
Here it is at supposed game view
Details will be added later on down the road to the cover and spine of the book, as for the pages I'm leaving that as is because I think it looks great, and I normally don't think too greatly of my own work anyways :S but if I'm wrong then just say so




Posts

: 72


Join date

: 2007-12-13


Location

: Vancouver



Much better, i like the book, just make sure that you scale your book to match with the mancar that i made for scale reference.

---
Permissions in this forum:
You
cannot
reply to topics in this forum