Alright, technically we don't NEED many art assets for a prototype, but it would be cool to have the look down. And you know, might as well get to work on some stuff.
Like most stuff I have posted and will be posting, this is not set in stone. Just a few ideas:

GRAVESTONES
for sure. This is obvious, but just an emphasis. One or two types, one model for in the ground and one model for out-of ground. When the player grabs one we'll just swap the model instantly.
A TREE
. One tree is probably fine for the prototype, we can scale it to suit whatever needs we have.
A FENCE
. The prototype level is going to be enclosed. I was thinking wrought iron with trees just past the fence for extra enclosure, but a stone wall would be cool too.
something like this:
but grimier
SOME OBSTACLES.
Maybe pillars, gravestones that are obviously too large to lift, etc.
I like this cross: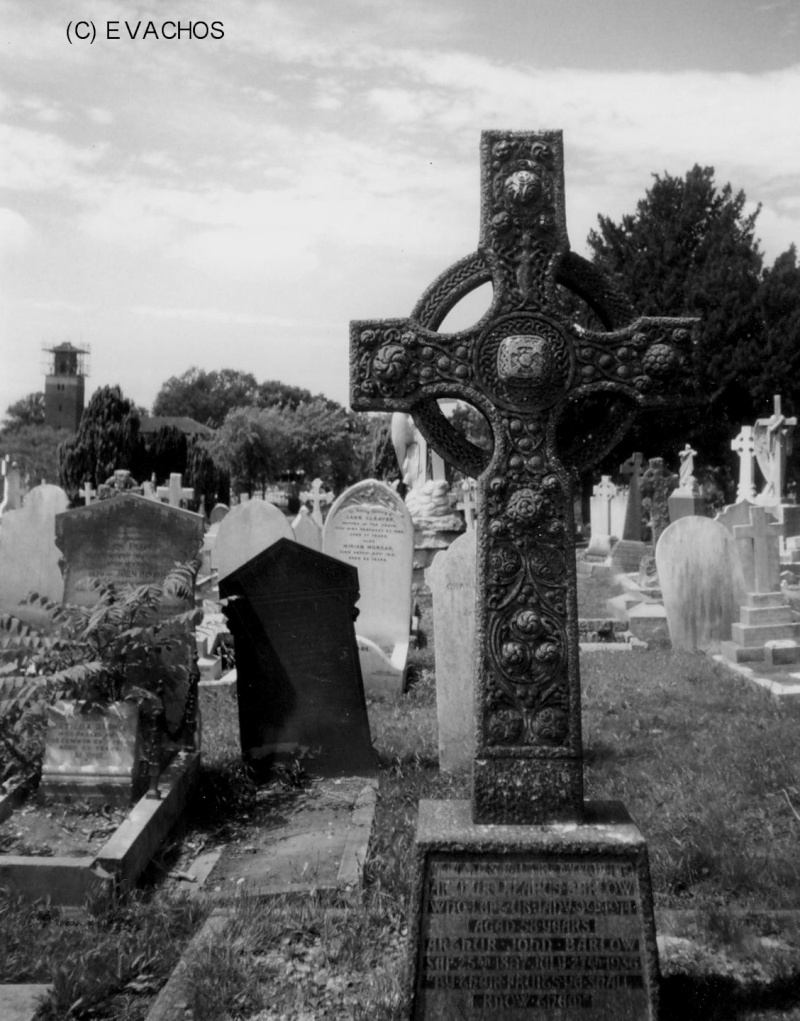 it would be a pretty cool obstacle.
Some planes with
GRASS ALPHAMAPS
would be awesome.
And here is something very important:

A THROWABLE SKULL
this needs to be iconic, recognizable instantly (i.e. unique from everything in the environment... perhaps glowing brightly). There seems to be a consensus amongst us designers that skulls are going to be the main weapon in the game. Grave stones and other objects can be thrown too, but skulls will be more useful in most situations.
I like this:
sans the eye and with a bit more detail.
That's pretty much it. There are other useful props to be built, but this is really the "meat" as far as environmental stuff goes and would be nice to have for the prototype. If you have time do more. All we really need is grave stones and skulls right now. We just need to be able to test that core gameplay and tweak it until it's fun. Don't build too much though. Line-of-sight is important in this game so some stuff might need to be re-done if it doesn't serve gameplay well.

CHARACTER ARTISTS:
We need at least one working character for the prototype to be effective.
This doesn't have to be an amazing character, it doesn't even need to look decent. It just has to work. UT's characters don't quite fit the scale we're going for and I don't think anyone wants to guess how things might look with the right sized character (this is in regard to things such as the camera and overall visibility in the environments).
Alright gays, that's pretty much it. You don't have to listen to me, but I am pretty into all the latest design discussion and this is the stuff that seems important.
Good list, I'd also like to add a few things.

Foliage - One or Two different types of shrubs or bushes would be great.

An Old Gazebo in Bad Shape - This would add a little character and flavour to the area, while also being an immediately recognizable landmark.



Posts

: 62


Join date

: 2007-12-13



sounds good!
So shall it is written so shall it be done! (for those of you who remember watching recess and remember king bob)



Posts

: 51


Join date

: 2007-12-13


Location

: Vancouver



As much as I love my Gazebo I have to ask...What exactly is a Gazebo doing in a graveyard? I don't think I've ever seen one anywhere near a graveyard. Not complaining or anything, just wondering where we are planning to put it in conjunction to the rest of the graveyard layout.



Posts

: 45


Join date

: 2008-01-11


Age

: 30


Location

: Hongcouver



Eh, I used to frequent a graveyard back home that had a gazebo, as well as a few other things like benches and water fountains and stuff, I guess they wanted to make it more hospitable if you wanted to, like, hang out with the dead or whatever.



Posts

: 62


Join date

: 2007-12-13



We should make a water cooler for the restless dead to hang around.



Posts

: 45


Join date

: 2008-01-11


Age

: 30


Location

: Hongcouver



Haha yeah a water cooler in the lobby would be awesome.
Maybe just a cool fountain for the the larger map. But it's a good idea to have big landmarks like that for people to recognize, even if they do seem a bit out of place. That's what stylization is for!



Posts

: 47


Join date

: 2007-12-12




---
Permissions in this forum:
You
cannot
reply to topics in this forum