First of all, the whole nugget of the idea came to me while I was attempting to go to bed on the Eve of Christmas Eve. "HARK!" the mind shouted, despite my presence all around it, "IT CAME FROM BELOW! What a fancrabulous title for a game!" Naturally, skepticism of all the other major organs were not easily... Oh, this just sounds really pretentious. What I'm really trying to say is...
This. The whole nugget of the idea is: A game that looks and plays like a cartoon version of early 20th Century horror movies (I'm not sure if it's the 50's, 60's or 40's).
And, knowing me, by plays, I mean like a top-down run & gun, akin to the SNES Pocky & Rocky game I'm certain more than a handful of you saw in action. Of course, the gameplay aspect is not set in stone, this nugget of an idea and game title are really all I've got to bring to the table at the moment.
It Came From Below! could mean anything really, zombies, fishmen, demons, Chuthulululul..., aaaand aliens. Probably other stuff too, I just can't think of any others right now. (But hell, with the list so far, the character modelers will have a hell of a time).
So, too long; didn't read: A game that looks like a cartoon horror movie from the early half of the 20th century. No gameplay ideas yet, and no innovation ideas either.
FEEL FREE TO DISREGARD, AND CLAIM I EAT BUCKETS OF DICKS.



Posts

: 10


Join date

: 2007-12-15



sounds pretty cool, i like the idea of some sort of 1920-50's horror with aliens, zombies, fishmen, demons and i would be interested in doing a Cthulhu kinda H.P Lovecraft themed game. if anyone has ever played the Arkham Horror boardgame its a lot of fun and is based on the H.P. Lovecraft stories.
basically in the game you're all investigators and ordinary people who are there in Arkham to close these portals that open up to other dimensions which are sprouting up over the city.
they go around the board gathering "clue tokens" which the player keeps and they go into the portal (they fight a monster first) and then spend a total of like...2 rounds in the portal area (each portal leads to the land of one of the monsters from Lovecrafts stories (like the dreamlands and the place where Cthulhu is from)) and they come out of these other dimensions and close the gate.
every time a gate opens the beast which you are fighting comes closer to awakening, and the more portals are open at a time the faster the thing will wake up. and you have to close and seal a certain number of gates or else the thing comes alive and you fight it.
sorry, let me rephrase that. the thing comes alive and you DIE...its a retardedly hard game. and i have played it lots and NEVER have we EVER won against the final boss
so right there is pretty cool idea.
lots of room for expansion, can make it as big or as little as you want.
lots of oppertunity for environment and character modelers if we have some sort of horror stricken city, with dimensional portals.
could be stylized or realistic.
opprtunity to make a puzzle game.
it would allow for a sweet ass boss battle.
only downside that i can see is that there IS a game that is already out, that is based on The Call of Cthulhu. its actually called "Call of Cthulhu: Dark Corners of the Earth" i think it was for xbox, it was not too bad, here is the link to it from MetaCritic:
http://www.metacritic.com/games/platforms/xbx/callofcthulhudarkcornersoftheearth?q=Call%20of%20Cthulhu:%20Dark%20Corners%20of%20the%20Earth
sooo yeah i think its an interesting possibility that would be worth looking into.
Here are a few pics of Cthulhu for those interested in what it looks like: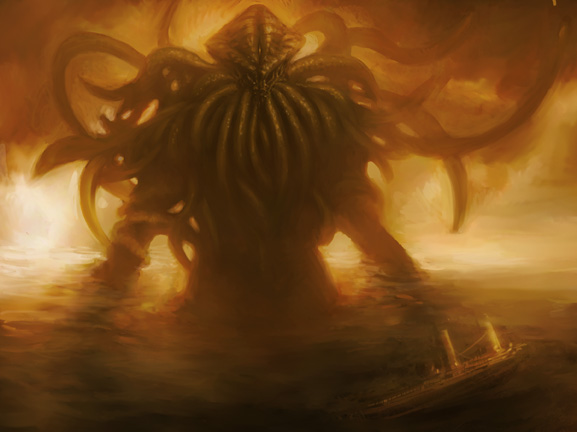 PS: Alphonse EAST BUCKETS OF DICK!



Posts

: 51


Join date

: 2007-12-13


Location

: Vancouver



the theme is really cool; it definitely has a lot of potential for sweet art and other assets. I'd be interested in seeing what sort of new, attention-grabbing gameplay could be applied to the theme.



Posts

: 15


Join date

: 2007-12-15



I really dig the old school movie monster idea, it's such a campy theme we could have a whole lot of fun with it.
Action or puzzle the theme is sweet.



Posts

: 62


Join date

: 2007-12-13



I like the idea of melee & shooter,, except UT has problemswith melee heh unless it involves bouncing things back or whacking them away with a shieldgun type thing when you mentioned pocky and rocky.. that could be a game play aspect of this. Monsters and things coming from below sounds fun I always loved giant tentacles coming out ready to slaughter me in two hits but to surprise it with my gaming talents to defeat it and feel good about myself afterwards haha

, Large Artistic Aspect and Gaming Value



Posts

: 72


Join date

: 2007-12-13


Location

: Vancouver



What about luring monsters to their deaths? "IT CAME FROM BELOW" made me picture monsters coming out of holes in the ground. Maybe you have a way to lure them over to traps or portals or something to kill them. There could be different types of monsters that only die certain ways. I don't mean just walking and having the monster follow you, maybe like having to hit switches and move things around to keep them on the right path to their death. A boss battle that involves similar mechanics but then launches monsters out of catapults at the boss would be pretty cool. The boss could be throwing things at you the whole time to try and mess you up.

We should all eat buckets of dicks, it'll impress the ladies.



Posts

: 56


Join date

: 2007-12-13


Age

: 30


Location

: Surrey



Adressing kevins point about melee: one thing we could possibly do (it works in theory and it makes sense that it would work, but then again, ut doesn't always make sense) is that for melee combat is that we could give the person a melee weapon like a bat, swap it out for the green shield gun, change the visuals of it when you use it and keep the same damage and effects of the weapon
SO:
-the gun would be replaced by a bat.
-when you swing the bat the animation would be replaced by a bat swinging with like..speed lines or something coming from behind it, so replace the animation and the green crap with speed lines or whatever.
-the damage effects stay the same, the bat knocks you back because its a fucking bat, and it does a small-med amount of damage, like the shield gun it would only go for a certain range.
so if doing this is possible then melee combat would be do-able, we'd just have to select what melee weapons we have in the game very carefully.
i like adams idea of luring monsters and leading them around as a way of killing them. that would be a cool game thing like having it chasing you, then running into a room that you trapped with like...a tripwire or something and having it fall down a pit into some spikes.
aaaand yeah, i agree with Vaughn and Aidan that there is a lot of potential for assets, and that i also dig the old school movie ideas. and there really is no lack of imagination with the group and a lot of interesting game mechanics could be put into play, like the throwing, luring monsters around and such.
a funny picture i found:



Posts

: 51


Join date

: 2007-12-13


Location

: Vancouver



I have a few gameplay ideas that I was thinking about at work today:

Over-head view

Luring by switching something (weapon? outfit? object?) to attract different monsters (ex: the green orb attracts aliens, the blue orb attracts zombies)... the ones that are effected by whatever you have will follow you, the other ones will attack you

There will be portals/traps/holes you lure the monsters to. Some of these will only accept certain types of monsters, and you will need certain amounts of monsters to be trapped/fall in the holes/whatever to make progress (like Pikmin)

Some monsters (maybe short, rock-like ones) can be launched from catapults to break stuff.

You cannot attack monsters, so avoiding death will be a balancing act of switching between the attraction items. Monsters can attack each other.


Any thoughts? I know some of what I wrote is a little bit confusing... I was being vague for the sake of keeping the ideas open to change.



Posts

: 56


Join date

: 2007-12-13


Age

: 30


Location

: Surrey




---
Permissions in this forum:
You
cannot
reply to topics in this forum